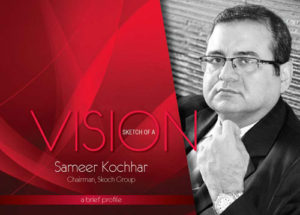 Sameer Kochhar is a self-taught sociologist-economist. Born to physically challenged parents in 1964, his formal education could only be till class 12th following which he joined Taj Group of Hotels as a Bell Captain after pursuing a one year diploma. He describes himself as a practitioner of poverty for the first eighteen years of his life. He managed to finish his graduation through distance education. After a one year stint at the Taj, he was employed in Bangkok for another year or so exporting garments and footwear to Middle-East. He came back to India in 1984 to look after his parents and joined a garage start-up called Pertech Computers Ltd In the thirteen years that he spent at PCL, he engineered it to become country's one of the largest PC selling and exporting companies in India. He served in capacities of National Head of Marketing, Product Management, pre-sales software support, Enterprise Business Head etc. He soon became a national figure for his technology and marketing savvy in the corporate world. In 1997 he quit PCL on a difference of opinion and vowed never again to work as an employee with a corporate. Just when he was down and out with no job, no company car and unpaid salary arrears running well into a year, he saw a vision - a vision of Inclusive India where a helping hand must be available for the down and out and decided to dedicate himself to mainstreaming the marginalized using his own skills and resources.
Since then he has been working towards inclusive growth of India led by digital, social and financial inclusion - the term inclusive growth was not even a part of either the political or economic vocabulary way back in 1997. In parallel he established a consulting practice in Skoch Consultancy Services Pvt Ltd that garnered over 80% market-share of IT companies entering India. Notable assignments include Dell, Gateway, Sony, HP, SCO, 3Com, Microsoft, Intel, Sun, Oracle and a host of others. He remains the number one India strategy consultant for the ICT industry and is often invited for global executive briefings, orations etc. He has traversed the nation's length and breadth studying and understanding where does India's competitive advantage lie. He returned from such sojourns armed with knowledge and experience, which was translated into case studies, impact assessment surveys, video documentations and finally global edition books.
Today, Sameer Kochhar is President of Skoch Development Foundation, which is a leading think tank on digital, social and financial inclusion issues in India. He has been passionately working towards promoting participatory democracy, empowerment, and bringing improvements in delivery systems. He is CEO, Skoch Consultancy Services, and is an industry veteran with a multifaceted career spanning over two and a half decades. He is India strategy and management consultant to several Fortune 500 as well as large Indian companies for over a decade. He is also Chief Editor of Inclusion-a quarterly publication focused on development economics issues. He is a member of several expert groups and committees constituted by Ministry of Panchayati Raj, Government of India advocating a case for strengthening of Panchayati Raj Institutions (village councils) through use of technology; and, Ministry of Communications and IT on evaluation of National e-Governance Program. He is one of the most sought after voices on social development and poverty alleviation issues.

His research opinion and writings have shaped many a public policy dialogue, Panchayati Raj, ICT for development and tax reforms. He has written extensively on areas of emerging management practices, infrastructure, governance, technology, finance, economics, e-Governance, Panchayati Raj and ICT for development.
He has led assessment projects of several government schemes including Bharat Nirman - JNNURM, PMGSY and NREGS; MCA 21 project of Ministry of Corporate Affairs; ICT enablement of Central Board of Excise and Customs, Ministry of Finance; ICT enablement and services delivery of Central Board of Direct Taxes, Ministry of Finance; Financial Inclusion initiatives of Reserve Bank of India; Capacity building and Self Help Group led financial Inclusion by NABARD; Banking Correspondent and Facilitator and other financial inclusion models adopted for financial inclusion by Punjab National Bank, Bank of Baroda, Union Bank of India, Corporation Bank, Canara Bank, Indian Bank, Vijaya Bank, State Bank of India, Central Bank, National Housing Bank, HDFC Bank and SEWA Bank.
The Foundation supports 400 tribal children for their education needs and is also working towards urban renewal of Gurgaon. A substantive funding for this comes from personal donations of Mr Kochhar and his family. The distinguished fellows of the foundation include Dr N C Saxena, Member National Advisory Council; Dr Bibek Debroy, Eminent Economist; Mr S S Tarapore, Former Deputy Governor of the Reserve Bank of India and Dr Santanu Paul. The foundation also provides research grants to grassroots practitioners.
In addition to authoring highly acclaimed Modi's Odyssey: Digital India, Developed India (2016); Defeating Poverty: Jan Dhan and Beyond (2015); and, ModiNomics: Inclusive Economics Inclusive Governance (2014); Speeding Financial Inclusion (2009), he has edited Infrastructure and Governance (2008); Financial Inclusion (2009); Urban Renewal: Policy and Response (2009); India on the Growth Turnpike: Essays in Honour of Vijay L. Kelkar (2010); Building from the Bottom: Infrastructure and Poverty Alleviation (2010); Growth and Finance: Essays in Honour of C. Rangarajan (2011); Policymaking for Indian Planning: Essays in Honour of Montek Singh Ahluwalia (2012); An Agenda for India's Growth: Essays in Honour of P. Chidambaram (2013). He has recently authored BSE: Journey of an Aspiring Nation (2015).
For a person of practically no academic qualifications, most of his books are recommended readings in Delhi University and Indian Institute of Management (Ahmadabad) and several other academic institutions.